Do you like to ride? Or do you just like hanging out with and supporting your PKU friends?
Either way, plan on participating in Spin for Kids this year!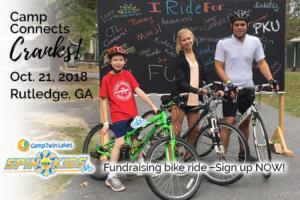 Recently, from August 17th-19th, many of us had the opportunity to participate in the 2018 Camp Connect at Camp Twin Lakes in Winder Georgia where we experienced a great weekend of fun, great food, valuable information and the opportunity to meet with other PKU families. This camp is affordable for many of our PKU families because of our relationship with Camp Twin Lakes.
The Camp Twin Lakes "Spin for Kids" fundraising bike ride is our opportunity to help raise money that helps provide life-changing camp experiences for children with serious illnesses, disabilities, or other life challenges, including PKU, and is an opportunity to support our own annual Georgia PKU Camp Connect Camp.
There are several ways you can get involved
1) Ride with the team: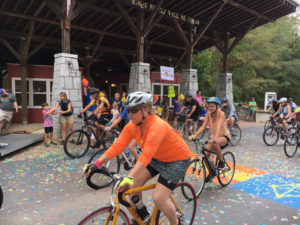 To join the Georgia PKU "Camp Connect Cranks" Team, go to our Team Page and click on "Join Team". If you have participated before, log in. Otherwise select "Join as a New Participant".
After you have registered to ride, be sure to visit the 2018 Participation Center and log in. In the Participation Center, you can:
Set up your personal web page. You can find suggestions for setting up your Personal Page here.
Add contacts and send them emails to raise funds (you may customize the content of these emails).
Thank your donors.
Stay up-to-date on donations and other team members.
Here are the details on the ride: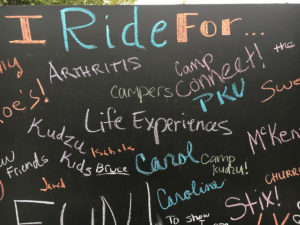 Spin For Kids offers a fun and fulfilling ride that winds through the scenic backroads of beautiful Morgan County, Georgia. Multiple routes accommodate riders of all skill levels. Participants can choose from six scenic road routes: 5, 15, 27, 47, 62 or 100 miles. Along each route, riders enjoy delicious homemade goodies and local fare at rest stops, while a dedicated team of first aid, route marshals, and bike technicians keeps riders safe. Riders with young children can register their children to participate in Day Camp while their parents are out riding. After crossing the finish line, riders join family and friends in a celebration of their accomplishments including delicious food, beer, live music and a chance to explore Camp.
2) Sponsor a rider (donate):
Go to our Team Page and pick a rider to sponsor, and then select "Donate". It's that easy. 100% of the money you donate goes directly to campers at Camp Twin Lakes, including our PKU campers, so your gift will make a difference in a PKU child's life!
3) Be a "Virtual Rider":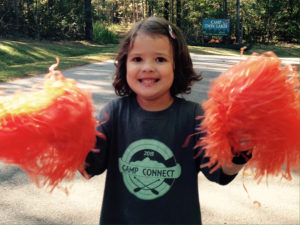 Not into riding? No problem; help with fundraising and just come for the fun. Go to our Team Page and click on "Join Team". If you have participated before, log in. Otherwise select "Join as a New Participant" and select "Virtual Rider" under "Participation Options".
Then bring a folding chair and join in the food, drinks and live music while you cheer on the team.
4) Volunteer to help:
We can always use help with our Georgia PKU Connect table and with assisting the riders and their families. Join us for a pleasant fall Sunday enjoying food, drinks and live music with your PKU friends.
5) Spread the word:
Even non-PKU families like to ride bikes. Let's spread the word to anyone who wants to ride for a good cause. Download a flyer here that you can post at your local Starbucks, bike shop or anywhere else bike riders gather.
More information about Camp Twin Lakes and Spin for Kids is available here.