• Christina Hwang, President

Christina Hwang joined the Georgia PKU Connect Board of Directors in 2018. She is originally from Philadelphia, PA and moved to Atlanta, GA with her two children in 2011. Having moved to a new city, Christina wanted to connect with other families who live with PKU and found Georgia PKU Connect via a Google Search. Through Georgia PKU Connect's annual Camp Connect, Christina's daughter Elizabeth learned the importance of maintaining her diet and most importantly that she is not alone. Professionally, Christina has held various roles within the Finance & Accounting organization at Turner Broadcasting. She is currently supporting CNN's Digital businesses as Manager of Financial Analysis. Christina graduated from Temple University with a B.B.A. in Accounting and has passed all four parts of the CPA exams. She currently lives in Atlanta, with her son Daniel and Elizabeth.
• Kristen Vanags, Vice-President

Kristen Vanags is a co-founder and former president of Georgia PKU Connect and a leading advocate for medical foods coverage. She also serves on the Georgia Newborn Screening Advisory Committee and the National PKU Alliance Affiliate Council. Kristen is a trusted expert on medical nutrition legislation and has lead advocacy initiatives at the state and federal level for over 10 years. Kristen previously served on the board of the Southeast Regional Genetics Group and was the chair of the Southeast Newborn Screening & Genetics Collaborative Consumer Alliance. Kristen received the inaugural Applied Nutrition ROSE Award and coordinated the first National PKU Awareness Day with U.S. Senator Johnny Isakson (GA). Prior to her engagement in non-profit work, Kristen was a business process consultant with Accenture and later did freelance change management consulting. Kristen lives with her husband and two children in Atlanta, home of her alma mater, Georgia Tech.
• Cas Turbak, Treasurer

Cas Turbak joined the board of Georgia PKU connect in 2021, and currently serves as Treasurer. Cas resides in midtown Atlanta, and moved to Georgia in 2007 to attend the Georgia Institute of Technology. At Georgia Tech he earned a bachelor's in Business Administration with a concentration in Finance, and returned to Tech to complete an Executive MBA in 2020. He has worked in the recruitment technology industry for the last ten years, and is currently a Vice President of Technology Strategy at Randstad Sourceright. In this role he oversees the evaluation and selection of recruitment technologies, and presents in both a sales and thought leadership capacity. Cas has previous experience in political fundraising, and is an avid photographer.
• Shiela Cochran Ryan, RDN, LD, At Large

Shiela Ryan has been a member of the Georgia PKU Connect Board of Directors since 2009 following her Nephew's diagnosis in 2008. She completed her nutrition studies at Georgia State University (GSU) and with Keith & Associates Dietetic Internship (KADDI). Shiela also holds a Bachelor of Business Administration with a focus in Human Resources Management from Columbus State University. Prior to attending GSU Shiela held a management position in Employee Benefits for Synovus Financial Corp. for over 10 years. Shiela's clinical career started with Morrison Healthcare at Wellstar in Atlanta, Georgia and her professional journey in nutrition continues with her role as a metabolic dietitian at Emory Healthcare. While not studying nutrition or connecting with PKU families Shiela enjoys spending time with her family, walking her dog, and cooking.
• Daniel Almeida, At Large

Daniel Almeida is a senior financial executive, with over 20 years of experience in risk management, investments, insurance and derivatives. He has worked for large multinational companies such as ING Group, Aflac, Intercontinental Exchange and managed teams in Brazil, Latin America and the U.S. He is now Director at KPMG on their Capital Markets Compliance Risk practice. When his younger daughter was diagnosed with PKU in 2008, he met Kristen via the Emory Genetics Clinic and they have been in contact since then. Given his personal link to the PKU community and also professional background, in 2015 he was invited to join the Board of Georgia PKU Connect. Besides supporting all its activities, his main focus in the group has been on Organization Planning and Board development, determining skills, experience needed, and defining board member roles and responsibilities. Daniel is also co-chair of the Principal Advisory Council at Peachtree Middle School and lives in Atlanta with his wife and 2 daughters.
• Lindsey Coltraine, At Large

Lindsey Coltraine is a Registered Nurse who works in pediatrics, and she is a Family Therapist where she works with couples and adult individuals. She graduated from the University of Georgia with a Bachelor of Science in Psychology before going on to complete her Master's of Nursing degree with Georgia Health Sciences University and Master of Family Therapy degree with Mercer University. She is married to Brian Coltraine, and they have a son who was born in October 2015 with PKU. They also have another son who was born in September 2019. Lindsey has been very active in the PKU community and is proud to serve on the board. Her passion is connecting with new families and helping to ease the transition into the PKU world.
• Erica Shaddix, At Large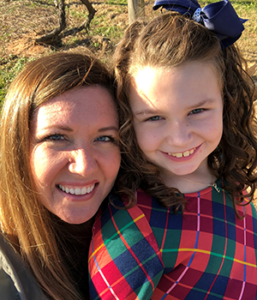 Erica Shaddix has been a member of Georgia PKU Connect since June 2011 when her daughter, Emily, was diagnosed with PKU. Erica earned both undergraduate and masters degrees from Georgia State University in Early Childhood Education. She is a Certified Teacher in the State of Georgia for Pre-K through 5th grade and has taught in various classroom settings. Erica is currently the Director of a private preschool in the Atlanta area, where she lives with her husband and two daughters.