The filter paper submission prevents an interruption in metabolic medication and/or metabolic formula prescriptions for you or your child.
Filter paper results help the Clinic to provide you with good clinical care. Please contact the Department of Human Genetics if you need filter paper supplies, prescription refills or metabolic formula by calling 404-778-8570. Select option 3 to speak with a member of our care team.
Update: November 2018:
Patient Responsibilities Include:
If you need filter paper supplies (lab requisition forms, filter papers, envelopes, food record forms) that were not requested at clinic (best time to request), please call the main line to the clinic at 404-778-8570.

Please state you or the family member is a metabolic patient and you are requesting filter paper supplies. Please include if you need lancets.
A request will then be put into our portal which will be received by one of Dr. Singh's staff. The packet will then be mailed via standard mail (USPS).

Another option if on the Biomarin medications Kuvan or Palynziq, you can contact Cheryl Steep, Biomarin representative at 415-408-1267© or email Cheryl.steep@bmrn.com.

Biomarin supplies include: filter paper cards, Eurofins/Emory Genetics lab requisition forms, stamped/addressed envelopes & lancets (which include bandages and alcohol wipes).
Food record forms:
For any questions regarding the status of a filter paper result, please contact EGL Client Services directly. Representatives can be reached by calling the following numbers or by email.
Phone: 470-378-2200
Toll-free Phone: 855-831-7447
Email: eglcs@egl-eurofins.com
Dietitians are no longer able to check the status of filter papers at EGL. Dietitians and Dietetic Technicians will still be reporting results as they are received on Fridays, but if you do not receive your result as expected please contact the lab directly. If you are concerned about a filter paper being included in the weekly run, we recommend contacting the lab on Wednesday to ensure the sample has been received and all documentation is in order to initiate processing.
***Please follow the instructions as shown in these filter paper and requisition examples to ensure you are including all the required information to prevent processing delays.***
Filter paper must include:
Patient's First and Last Name
Date of Birth
Date filter paper was collected
Requisition must include:
Patient's First and Last Name
Date of Birth
Date filter paper was collected
Insurance Information
Patient/Legal Guardian's Signature
**Both Filter Paper and Requisition must be received in order for the lab to initiate testing.
**Filter papers must be received by EGL by 5 pm on Wednesday in order to be included in the weekly run on Thursday.
Please mail filter papers (NO food records) to:
EGL Genetics, Europhins Clinical Diagnostics
2460 Mountain Industrial Boulevard
Tucker, Georgia 30084
If you need additional guidance on how to fill out a food record, please refer to Food Diet Record Guidance.
Food Records should be emailed to Dietetic Technicians: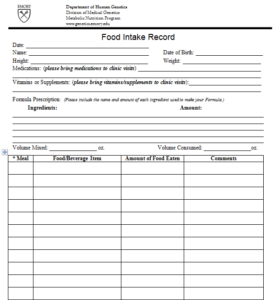 Taylor Bradow (taylor.bradow@emory.edu) and Mary Caite Allen (mary.caitlin.allen@emory.edu)
… or mailed (NO filter paper/requisition) in a separate envelope to:
Emory Department of Human Genetics
Attn: Research Dietetic Technicians
2165 N. Decatur Road, 2nd level
Decatur, GA 30033
˜
Please note: as of 12/2017, the Emory Clinic Department of Human Genetics has moved to a new location:
1365 Clifton Road, Building B, Suite 2200
Atlanta, GA 30322
Appointment Scheduling: (404) 778-8570.
The clinicians at the new location are Michael Gambello, MD, PhD, Hong Li, MD, PhD, Jaime Vengoechea, MD William Wilcox, MD, PhD, Amy Talboy, MD, Rosanna Sanchez Russo, MD, Juanita Neira Fresneda, MD and Rani Singh, PhD. Please allow additional time to park in the garage when coming to a clinical appointment. Also, keep in mind that there is a charge for parking. Validation is not provided.
Click here for a map of Emory Campus for your convenience.