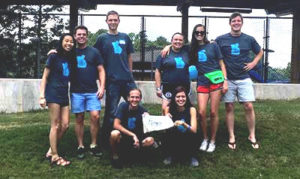 As a PKU adult, you are in a different stage in life and, frankly, many of the PKU resources available seemed to be geared to children. Been there, done that. But take heart: Georgia PKU Connect consists of other PKU adults, parents, relatives, children and we are here to assist you in your journey. Within the Georgia PKU Connect community are a number of active PKU adults that can relate.
Though the whole site contains valuable information, this page is designed to provide links to give you a "quick start" – a guide to what may interest you first. Hopefully this will be helpful, but also please reach out to us and "connect".
Read one Georgia Connect PKU Adult's story:


"Blessings" by Anna Parker

Anna Parker is a 26 year old woman with PKU. She was diagnosed at 10 days old through newborn screening. Read how this kindergarten teacher has handled the challenges of her disorder with humor and creativity…Read Story

How to make contact with someone from Georgia PKU Connect. This is also a good way to ask those "burning questions".
Get plugged in to the larger PKU community through the National PKU Alliance, and be sure to checkout the NPKUA's Adults with PKU Connection page!
Getting help with insurance coverage.