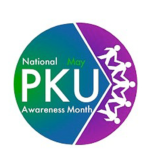 Help us help our Georgia PKU Community! Georgia PKU Connect needs your support to spread the word about the benefits that Georgia PKU Connect provides to PKU families – benefits such as engaging in advocacy, supporting research for a cure, and hosting events, to name just a few. To assist in this, we have prepared a brief flyer that you can download and use to help explain PKU to your friends and family, and to ask for their support.
Here are some suggestions for ways that you can get the word out:
Challenge 10 of your friends and family to donate $20 each during the month of May
Share the flyer with your family and friends
Share the flyer with co-workers. Post it in the breakroom during the month of May with a picture of your PKU loved one!
Share the flyer with your child's school and speak to the principal about allowing a fund-raising day. Perhaps teachers could wear jeans on Friday for a donation or children could wear a hat for a donation
Post a PKU story on social media during the month of May with a link to our website
Any way that you can help would be of benefit. Thank you for your support this month in helping to make a difference in a PKU life!
.