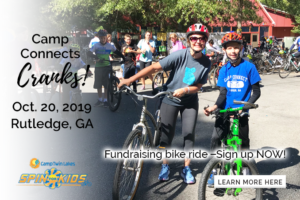 If you are riding with us in this year's Spin For Kids fundraiser, you will want to set up a "Personal Page" to direct your friends and family to for donations. When you register to ride, you will be given a basic page. We recommend that you customize this page a bit to make it more personal. Below are some suggestions. Here is also an example of a customized Personal Page.
Editing your Personal Page:
After registering, go to the Participation Center and log in.
Select "Set up your Personal Page"

At the top of this page, you will see the URL to your Personal Page. You may copy this and send it to friends and relatives to let them know of your participation.
Personal Note:
We recommend that you modify or replace the default copy to include a brief paragraph on your connection to PKU. Perhaps you or a relative with PKU has benefited from Georgia PKU Connect's "Camp Connect" (held at Camp Twin Lakes). If so, a brief story from your experience would be great! In addition, include basic information about the ride itself. Below is some copy you can borrow or modify:
"On October 20th, I will be riding with the Georgia PKU Connect "Camp Connect Cranks" team in the annual Camp Twin Lakes Spin For Kids fundraising bike ride to raise money for Camp Twin Lakes. Camp Twin Lakes is an incredible organization that provides camp programs for children with serious illnesses, disabilities, and other life challenges, including PKU. For the last several years, Georgia PKU Connect's own "Camp Connect" has been held at Camp Twin Lakes, so our campers have been the direct beneficiaries of the programs and facilities of Camp Twin Lakes.

Why I'd Like You to Sponsor Me

Every $550 our team raises funds one week of camp for a Camp Twin Lakes camper. 100% of the money you donate goes directly to campers at Camp Twin Lakes, including our PKU campers, so your gift will make a difference in a PKU child's life! This camp is affordable for many of our PKU families because of our relationship with Camp Twin Lakes. I hope you'll join in supporting me as I ride."
Image:
We recommend you include a personal image with a picture of who is riding, or if you don't have one available, you may use one of the images in the gallery at the bottom of this page (just right click and "save image as…"). To change the image on your Personal Page, select "Photos/Video" in the Participation Center.
We look forward to riding with you!